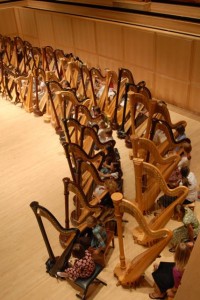 Suzuki summer institutes are special camps that provide an intensive musical experience for families with children who currently study an instrument through the Suzuki Method. Institutes are located in all regions of the U.S. and Canada, offering activities for students, parents and teachers in one-week sessions throughout the summer. Families enjoy attending the institute together and participating in a wide range of musical and enrichment activities. For teachers, institutes offer Suzuki training for both prospective teachers who desire an introduction to the method and experienced teachers who wish to expand their knowledge and receive fresh inspiration.
SAA-approved summer Suzuki institutes follow specific SAA guidelines in providing training for teachers, and activities for students and parents. Institutes are sponsored by independent organizations, schools, and programs throughout the U.S. and Canada.  Festivals in Latin America offer similar opportunities.
The 2015 Summer Institute season was a great success!  Thanks to all of you who attended.  Sign up now for 2016 Institutes.  In the list that follows,  those that offer teacher training are highlighted in red.
Colorado Suzuki Institute, Beaver Creek, Colorado
www.coloradosuzuki.org
June 20-25, 2016:  Students
June 19-23, 2016:  Students

June 18-25, 2016:  Teacher Training — Book 1, Delaine Fedson Leonard
DFW – WOW Suzuki Institute, Fort Worth, Texas
www.dfwwow.com
July 1-5, 2016: Students

July 1-5, 2016: Teacher Training — Book 2, Phala Tracy
July 10-15, 2016: Students

July 10-15, 2016: Teacher Training — Book 2, Mary Kay Waddington

July 10-15, 2016: Teacher Training — Book 3, Kathy Kienzle
American Suzuki Institute, Stevens Point, Wisconsin
www.uwsp.edu/Suzuki/asi
July 17-23, 2016:  Students

July 17-23, 2016:  Teacher Training, Book 4, Delaine Fedson Leonard