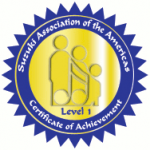 The SAA is now offering a Level 1 Certificate of Achievement. The Suzuki Association of the Americas is committed to excellence in teaching and is offering this Certificate as a way of recognizing teachers with a commitment to life‐long learning and self‐improvement.
The program is designed so that the applicant will be able to demonstrate his/her commitment to excellence as a teacher. The process was developed within the framework of the Suzuki philosophy and was designed to encourage self‐evaluation and professional growth. While the SAA Certificate of Achievement Program is not a certification, it provides a viable measure of achievement and commitment beyond the basic registration of units. By engaging in this process you will not only grow as a teacher, but contribute to the growth and professionalism of Suzuki education in the Americas.
Requirements include registered training in Books 1-4 plus Practicum, 3 years SAA membership and teaching experience, commitment to Aspirational Ethics Code, and video of teaching and student performances.
For more detailed information including a downloadable application, go to Certificate of Achievment.